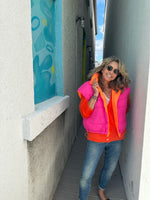 "WE WANT TO BATTLE BOREDOM" ~ Essentiel Antwerp ~A Brand Like No Other
Essentiel Antwerp is a fashion-forward brand that epitomizes eclectic elegance and vibrant individuality. Renowned for its distinctive and trend-setting designs, Essentiel Antwerp merges bold patterns, vivid colors, prints, unexpected combinations and avant-garde silhouettes to create a captivating blend of contemporary and timeless fashion.
With a commitment to quality craftsmanship and a flair for storytelling through clothing, Essentiel Antwerp crafts collections that cater to the modern, confident woman seeking to make a striking statement with her style. Whether you're looking for chic everyday wear or eye-catching pieces for special occasions, Essentiel Antwerp is your passport to a world of daring fashion expression.
Essentiel Antwerp has grown into a global brand with a powerful message of love, fun, and colorful surprises. A universal message that translates anywhere and everywhere in the world.
#WESTdressed #WeMakeGettingDressedFun