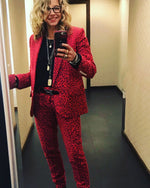 Isn't Your Personality Loud Enough?
Clothes are the skin we choose to show the world.
Most of us don't walk around naked in public, so what we wear is really a choice of how we want to be seen, often reflecting our personalities and the way we feel about ourselves.
For me, fashion is extremely personal, and as much as I stay on top of the current 'trends' (owning a retail store, I would say that is a must 😆), how we
feel
when we wear our clothes, to me is the more important guideline. Sometimes, that
does
mean we need to step outside our comfort zone and try something new, but
ALWAYS
that outfit should make us
'like'
what we see in that mirror. Not what others will think, or how impressed someone else may be, but feeling good inside.
WE
are the ones who should be impressed. And smile back at that reflection.
Because when we are comfortable in our own skin, natural and store bought, we present a more positive and confident person to the world. And it's not about spending a lot of money or wearing designer labels. It doesn't matter where you shop, there is always an item to be found that will make us smile when we put it on. And a smile is always in fashion.
So, to answer the question about what I am wearing... it is the Leo print suit by Zadig & Voltaire. No, I don't usually wear outfits quite this bold. My
'Go To'
look is generally a pair of Moussy jeans, a Monrow T-shirt with an RtA sweater and a Smythe blazer (all brands we carry at WEST and I absolutely adore), but this suit just spoke to me (and boy did it have a lot to say 🤣). Now, normally, I wouldn't wear both pieces together. I would more than likely put the jacket with a pair of jeans and the pants with a simple T-shirt and a denim or black leather jacket. All those options would still make a statement because of the fabric design, but would also be more understated (If that's more your style).
My point is that fashion can be whatever
YOU
feel it should be.
For you
. And if you feel you can pull it off, and you like what you see in your mirror, then
Go For It!
Make it your own. Add your own little twist. Love who you are.
BE YOU
.
Come visit WEST at 117 Post Road East, Westport, Connecticut. 
'Curated Fashion With A West Coast Vibe'
Follow us on Instagram @west2westport