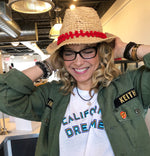 It's all about the graphic tee
 In our town, Summer is filled with tons of outdoor events.
From concerts at The Levitt Pavillion to fireworks at Compo Beach, to the famed street fair, The Westport Fine Arts Festival, we spend a lot of time enjoying the season. And what better summer fashion piece to wear for all this 'outdoor fun' but a cool graphic tee.
WEST is known to carry the coolest t-shirts and one of our favorite brands is MadeWorn. Focusing on sustainable manufacturing and locally sourced materials, MadeWorn is one of the few companies that can boast that all their creations are absolutely and entirely – American made.
MadeWorn is built on craftsmanship, an intense eye for detail and a total commitment to creating the highest quality American products.
"for us, clothes are art – each piece completely unique, original and unlike any other of it's kind." ~ MadeWorn.com 
Come visit WEST at 117 Post Road East, Westport, Connecticut. 
'Curated Fashion With A West Coast Vibe'