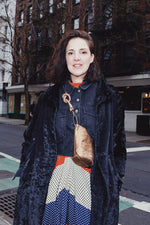 Volta Atelier: A Stylish Sustainable Solution
You can read all about brands focusing more on sustainable productions, but how many times have you seen someone actually doing that from start to finish? Well, meet VOLTA ATELIER
In collaboration with local NGOs, the Volta Atelier shows that dope & beautifully made leather bags can have a huge positive social impact, from materials to the chosen team — seriously. Each creation is hand-stitched by artisan women in social vulnerability, such as refugees from Haiti living in South Brazil, victims of domestic violence or former inmates. The materials used are also one of a kind: with 100% scrap leather, the designs got us seeing heaven where things were seen as only waste.

How did VOLTA originally start?
Having worked in the leather accessories industry, founder Fernanda observed the environmental problem caused by the wasted material generated from production, leather among them. At the same time, she was already developing in Brasil projects for the use of artisanal work in accessories within a higher production scale. Working as a trend forecaster she had the understanding that there was room for purpose-driven brands. So, the decision of making accessories using 100% of upcycled leather and artisanal production was a natural consequence of her previous activities.

Do you guys believe that "Waste Is an Error of Design". What does that mean to you?
The landfill problems we are experiencing now are in great part a result of a culture of planned obsolescence, which was a design solution at its time. Once Design is concerned with all aspects of a product, waste management should be one of them, not only for the pattern making creation or for the waste generated during production but also its after-use. The design should not omit this responsibility. 

How important is your team during the entire process?
As a brand that produces artisanal products, we rely 100% on our team. Their importance is not only on the work they do. The artisans bring their journey to the brand. These Haitian women, for instance, are an inspiration for us. During their training, we learned about unimaginable difficulties they went through, forced by their circumstances to move to a foreign country, to communicate in a new language. We want our consumers to become part of this, and to be inspired by the story behind each item. That is why each product comes with a tag signed by the artisan who had hand-stitched it. 

Volta Atelier represents the beauty of handmade and the power of upcycling. Using time honored skills, talented Brazilian artists utilize scrap leather to create an inspired line of leather accessories that are lightweight, simple, beautiful and timeless.

What is the connection you see between sustainability & working with socially vulnerable woman?
Sustainability and social justice walk side by side. From the seventeen United Nations' Sustainable Development Goals, at least eight can be considered social goals, as the elimination of poverty, gender equality, social work, and so on. So, for us, sustainability is inextricable from social justice. 

What mainly comes to mind when you are designing a new product?
The main concepts are timelessness, simplification, and lightness. We need classic shapes because we are using high-quality leather and the bags will last for a long time. We need simplicity to highlight the manual work and the characteristics of the leather. Lightness simply because most of the bags are too heavy. We only use small metals and mostly for handles adjustment. Also, all of them are foldable, perfect to travel light. 

How does the reuse of leather happen?
One of the best parts of reusing leather is exclusivity: almost all our bags are one-of-a-kind. This also comes with some constraints. As we are not ordering the production of the raw material, there's an inverted logic to plan our production. Our company cannot simply decide what to produce. In the beginning, our available material is used to decide what products can be made. I would dare to say it's a completely new way of thinking production.

And how do you choose the perfect material?
We carefully select our leather scraps from tanneries and factories, after production or a collection. Having worked for this industry enables me to look at different sources to find what fits best for us. In our process, it is crucial to have a good assortment of colors, prints and embossing patterns. Brazilian leather is one of the best in the world but also using it makes sense for us from a logistical standpoint.

What is the big difference between hand-made goods from other types of production?
We believe the big difference is in the connection. There is a connection between the artisans and the items being made. The artisans are incorporating their time, work, attention to detail, and their heritage into the product. When this connection is perceived by the consumer, the product becomes meaningful.

New year, bigger goals — What are the ultimate goals for Volta Atelier?
Apart from business expansion while making a meaningful impact, we want to increase our product mix with items combining other upcycled materials and artisanal techniques. We also want to build collaborations and partnerships
with like-minded brands, artists and NGOs.