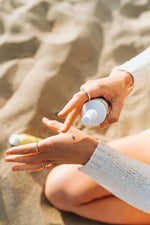 WEST Editor's Picks: SPF's Of The Moment
Our #1 tip for healthy skin all-year-round is simple: SPF. Especially now that we're in the full swing of summer, we need make sure we're taking extra precautions when it comes to the sun. Here's a list of our favorite clean sunscreens of the moment to keep your skin protected and glowing. 
FOR FACE:
#1 Supergoop 
Supergoop has tons of different products and ranges of SPF. They pride themselves on using clean ingredients in their products and they all work seamlessly along with your daily skincare or makeup routines.
#2 Unsun
Founded by Katonya Breaux in 2016, after much frustration by the lack of options within the world of clean sunscreen products for women of color. Unsun Cosmetics was created to provide clean, no-residue options that were kind to the person using it as well as the environment it's being used in. 
Packed with zinc oxide, Astaxanthin-Rich Algae Extract, and sunflower sprout extract, it prevents from sun damage and free radicals. The product is formulated without any of the ingredients Drunk Elephant terms "the Suspicious 6," which includes "essential oils, drying alcohols, silicones, chemical screens, fragrance/dyes, and SLS."
FOR BODY:
#1 ThinkSport
This water-resistant sunscreen lotion instantly starts working to provide you effective broad-spectrum UVA/UVB protection. The non-greasy formula quickly absorbs, giving you soft skin with a dry, matte finish, making it perfect for people with oily skin. No animal testing. Free of biologically harmful chemicals: no avobenzone, oxybenzone, paraben, phthalate, paba and 1,4 dioxane free or UV chemical absorbers.
Using a lightweight oil is ideal for east absorption. Gone are the days of traditional sunscreens that can leave a heavy white cast. By using this lightweight oil, you will experience easier absorption, SPF 30 protection and dewy, glowing ski
Introducing the 1st 100% Zinc Sheer Continuous Spray SPF 30 sunscreen for the entire family. Babo's fragrance free sunscreen is perfect for extra sensitive skin, protecting your family against damaging UVA and UVB rays while providing 80 minutes of water and sweat resistance. 
Bare Republic is super sheer and light, but tough enough to keep up with all life's adventures! This ultra clean SPF 50 sunscreen spray offers a layer of physical protection, enhanced with antioxidant-rich hydrators including grape, raspberry and carrot seed oils. Natural vanilla and coconut scents refresh while non-nano minerals provide 100% chemical-active free broad spectrum UVA/UVB protection. A formula from the Earth, made to enhance your everyday adventures.