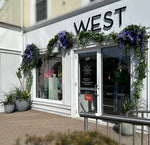 Westport Fine Arts Festival
If you're looking for the perfect outfit to wear to the Westport Fine Arts Festival, May 27-28, you've come to the right place!
From casual to a bit dressier, WEST has you covered with the best clothing to make sure you look fab. From lightweight tanks and tees with classic jeans and shorts to flowy dresses, we've got the perfect pieces to help you stand out in the crowd.
Plus, we've got some great accessories to complete your look, like statement jewelry by Dylan James, stylish hats and even some perfect summer bags. Get ready to show off your style at the Westport Arts Festival and rep your WEST!
#ShopLocal #WeMakeGettingDressedFun